This year was one of those round number birthdays, ringing in a new decade for me. I figured I should celebrate it in a special way, so I took 10 days to ride by myself around Arizona & New Mexico. That was the original plan, but since my birthday is in July, one of the hottest months of the year, not to mention, the beginning of monsoon season, I moved my sights further up the map towards Utah, Colorado, Northern Arizona & Northern New Mexico. With 3,200 miles over those 10 days, I covered alot of ground.
Day One | San Francisco, CA to Hawthorn, NV | 300+ miles
Since I was easing into this trip, I took my time leaving San Francisco and didn't get on the road until around 10am. Bombing down the 580 to eat up as many miles as I could and get started on that long distance between home and Utah. Shortly after leaving the weather safe haven of the Bay, the temperatures started rising. Luckily it wasn't too long on 120 before things started to get fun and twisty. I took the beautiful road through Yosemite, which I was fortunate enough to make it through before they closed sections of the park a few days later. It started to get pretty smokey as my ride progressed, and towards Tuolumne Meadows the rain started to lightly fall. Needing to put on rain gear was a great opportunity to pull over and grab a photograph of the stunning park. Just the peaceful beauty you could see from the road was incentive enough to plan to come back and spend some time hiking. Continuing over Tioga Pass was also very impressive, even as the rain continued to fall. There was still snow up on some of those high peaks. By the time I rode past Mono Lake, the rain really started coming down hard. Then it was the long straight, deserted road through Nevada that was a clear picture of what the rest of my ride through Nevada would look like. Lots of sage brush & sand with a sprinkling of lighting in the distance. I spent the night at a BLM campground with warning signs about orb spiders, apparently the area becomes infested with thousands of them every year. I have horrible arachnophobia so I was pretty quick to get my tent up and hide. With the emphasis of the quantity of spiders the long warning sign mentioned, I surprisingly didn't see a single one. The wind came in waves throughout the night, jostling my tent and waking me a few times.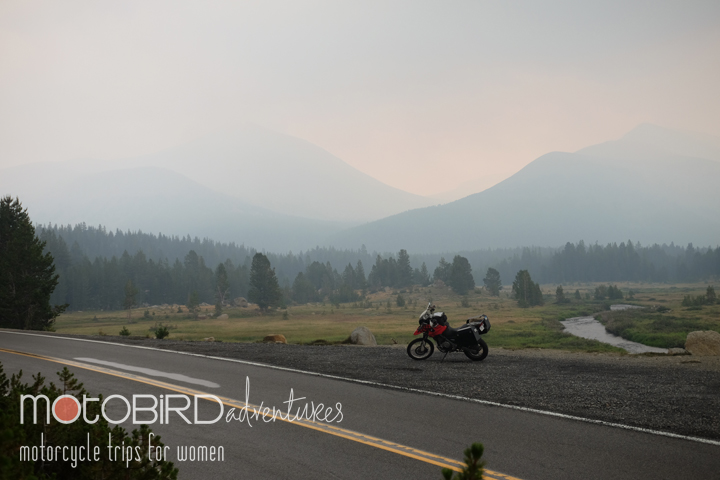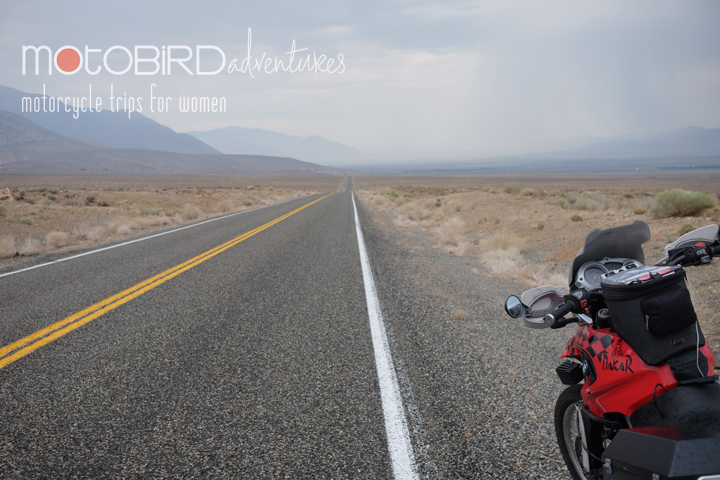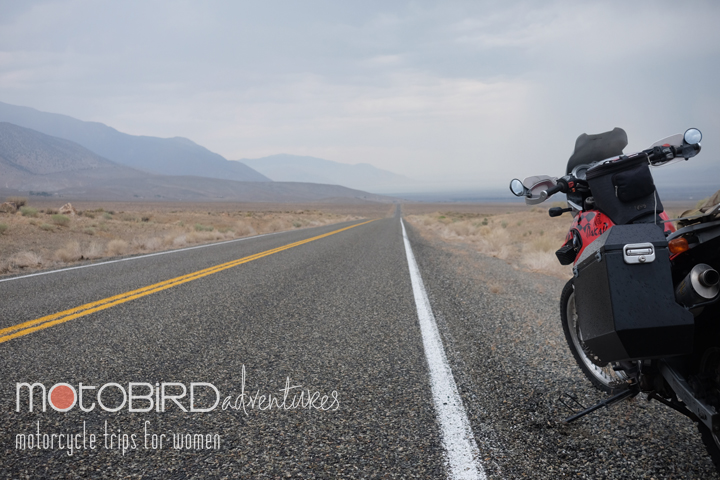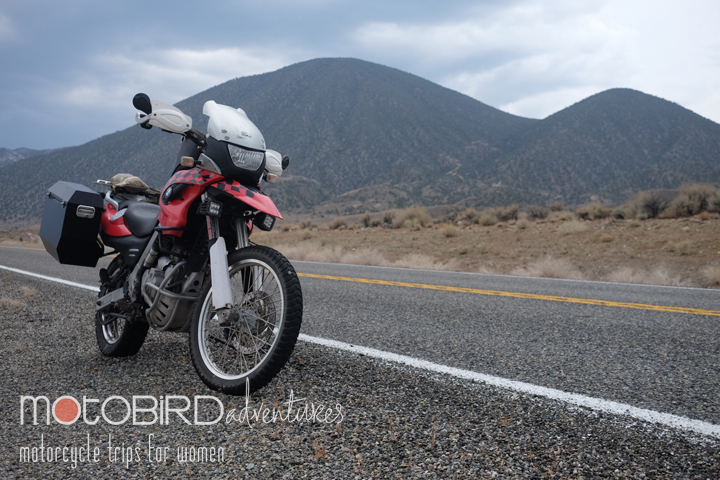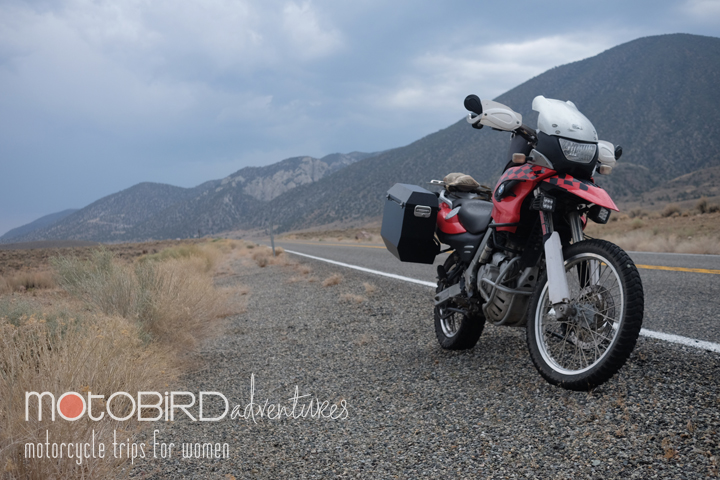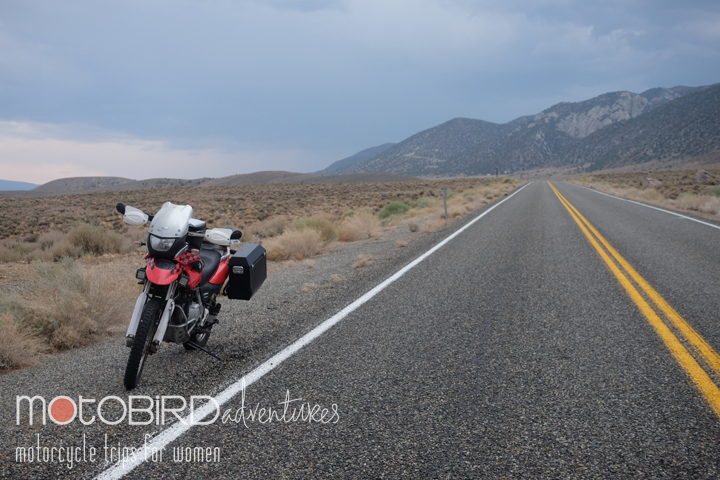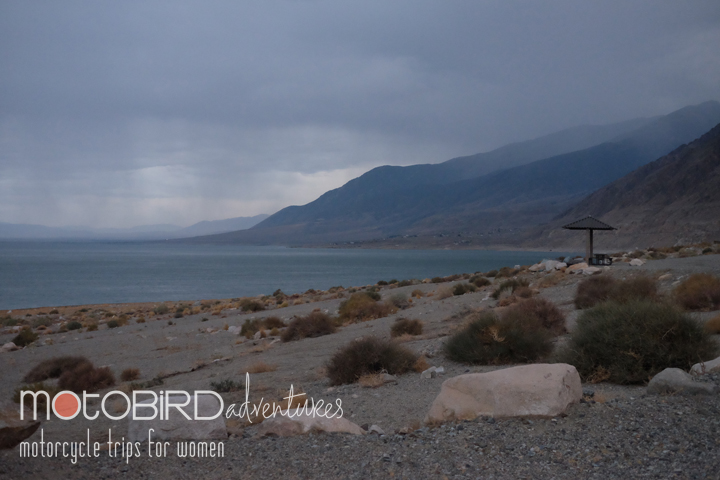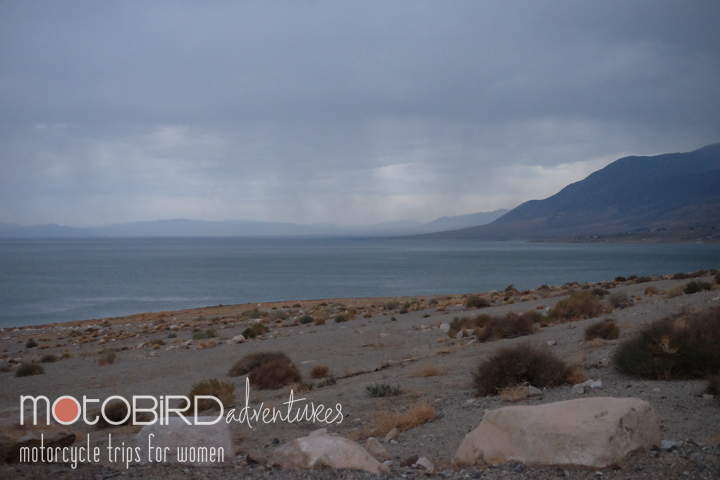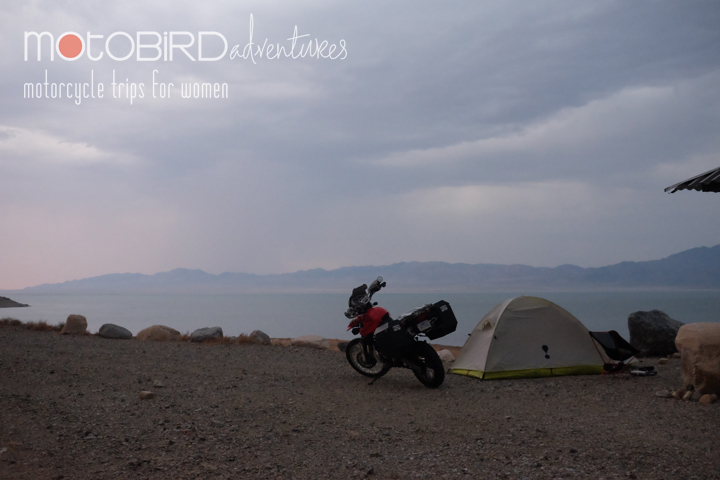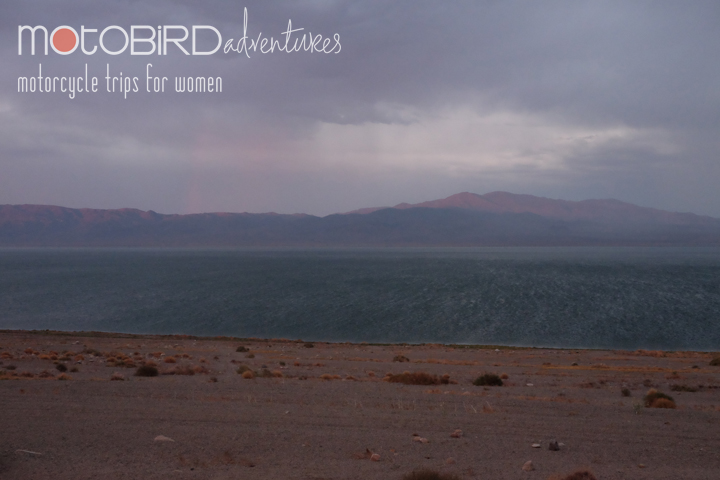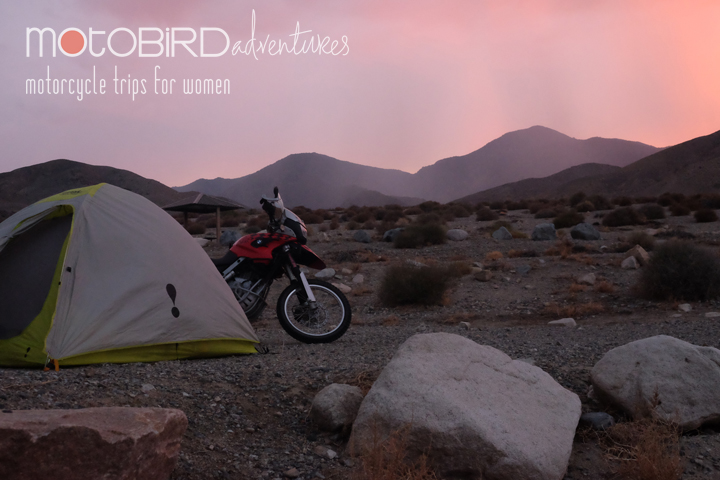 Day two | Hawthorn, NV to bryce canyon, ut | 500+ miles
Day two was long. It is very rare for me to turn my bike around and retrace where I came from, but on a few occasions, after leaving a town, a sign told me there'd be no gas for the next 150 miles or so, which would be further than my partly used tank would take me. So I'd have to double back, fill up and then get going again. The morning ride was very grey, flat and desolate, taking me past shacks along the roadside, former businesses and former homes. As the day progressed, so did the scenery, things slowly started to change colors, the scenery slightly less flat, less desolate. Dirty streams surrounded by deep, lush green along with brown and white cows and calves. Temperatures were rising with the sun, by the time I stopped for lunch, it was quite warm. Most of the road was straight and flat. It wasn't until the very end of my riding day that I took the 14 out of Cedar City, UT that I really started to hit those good riding roads. Starting at the bottom of the mountain, surrounded by canyon walls and a river, I twisted my way upwards towards more green than I had been seeing all day. I was riding through Dixie National Forest, which reinvigorated my tired body and lifted my spirits. I made it to my campsite at Bryce Canyon before sundown and didn't have energy to do much other than set up and read.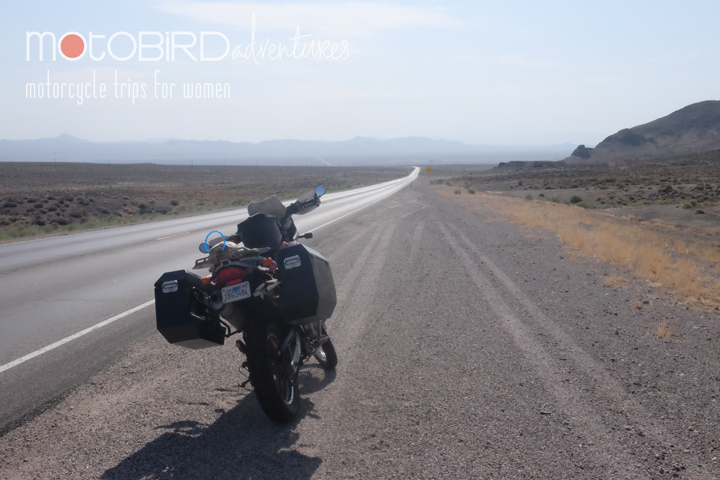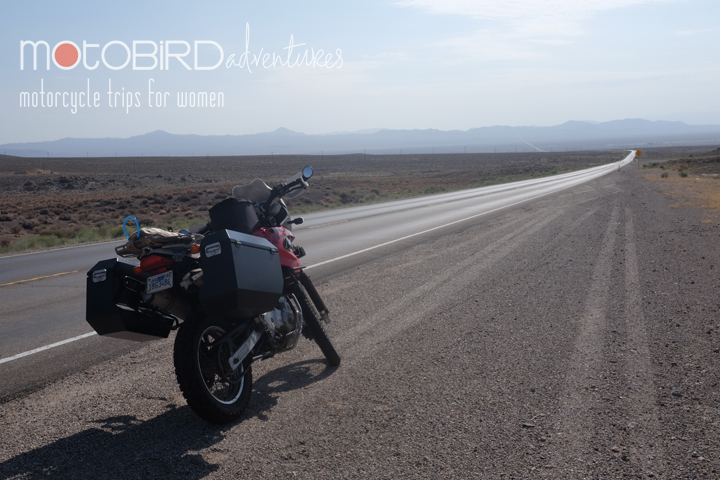 Day three | bryce canyon, ut | 0 miles
Since I ate so many miles the day before, I didn't ride on the third day. I had planned a 10 mile hike down into Bryce Canyon and set out in the morning with my water & some snacks. After 3 miles, rising temperatures and very little sun coverage, I decided the hike down into the canyon wasn't going to happen. I shamefully took a shuttle, found a shower and stuffed my face with pizza. It was a very bizarre and unexpected experience, expecting to be in nature and then having access to these indulgences. I recently read Desert Solitaire by Edward Abbey and knew he would have some strong feelings around how developed the area was. Personally I was quite torn, on one hand it allows folks who wouldn't be comfortable or able, to see the incredible natural world. On the other hand, you are in nature, and it is difficult and dangerous and the easy manner in which folks can access it causes you to forget the danger, which is still very real. I spent some time looking into the canyon in the morning and later on around sunset.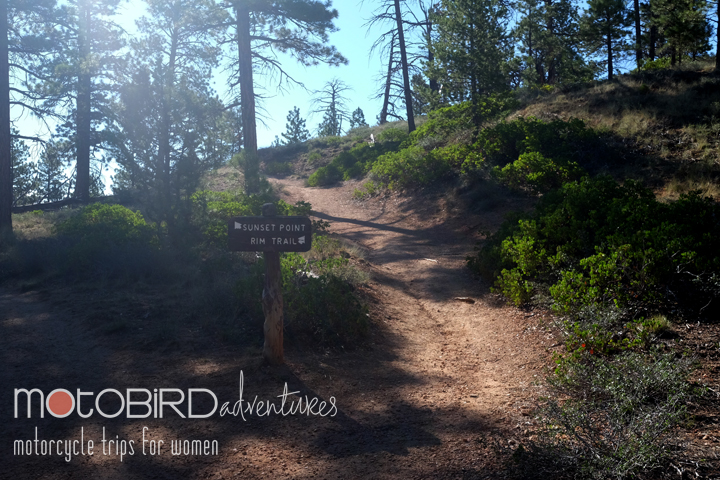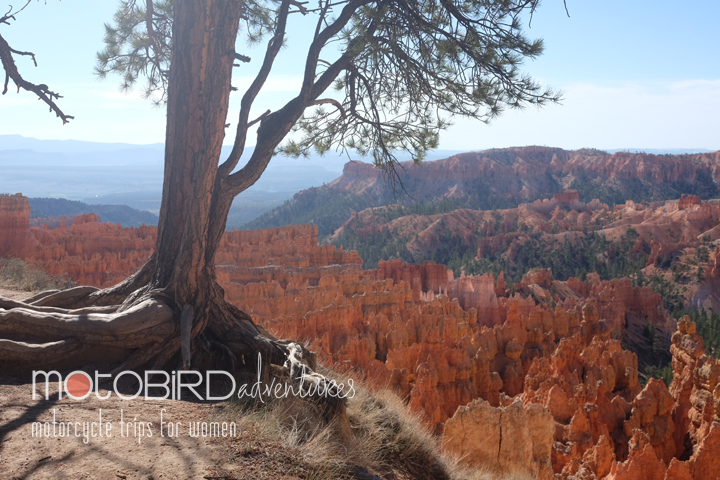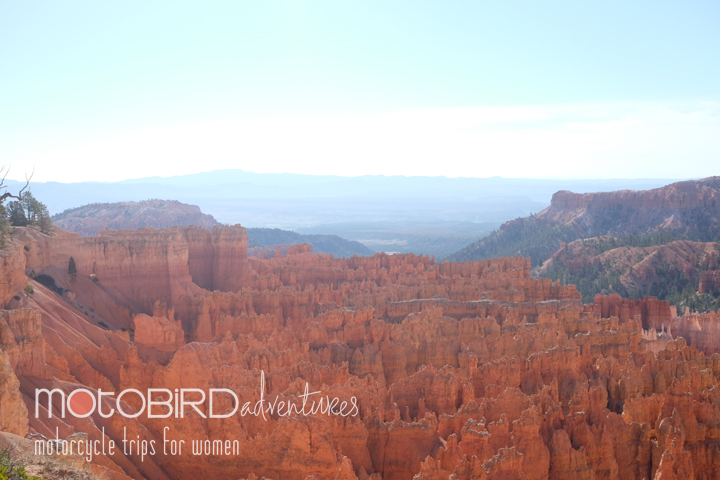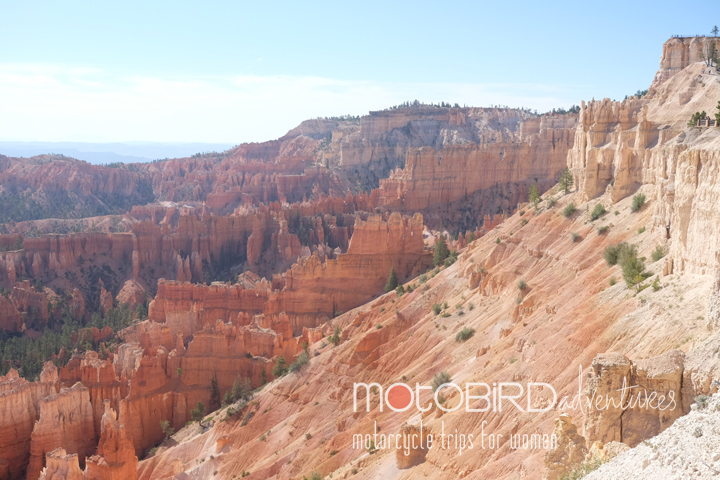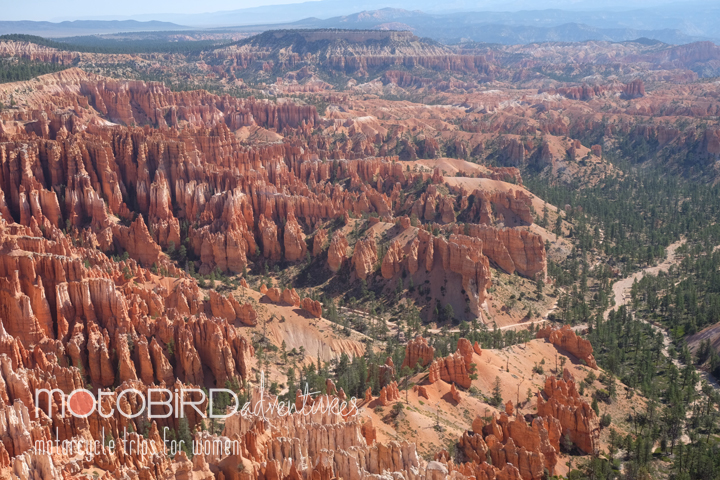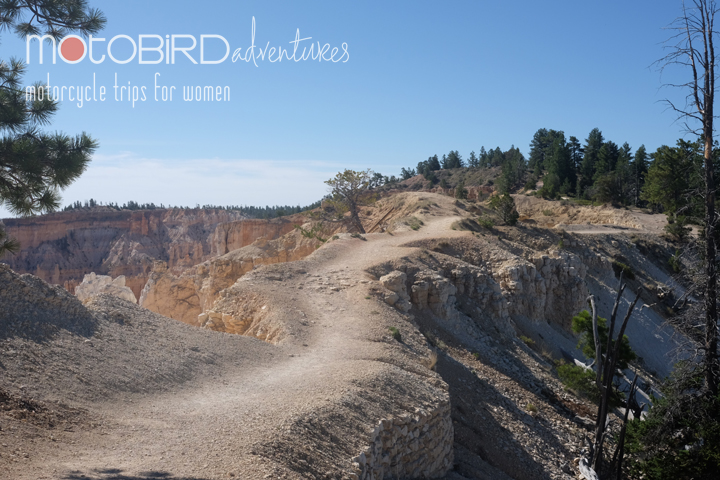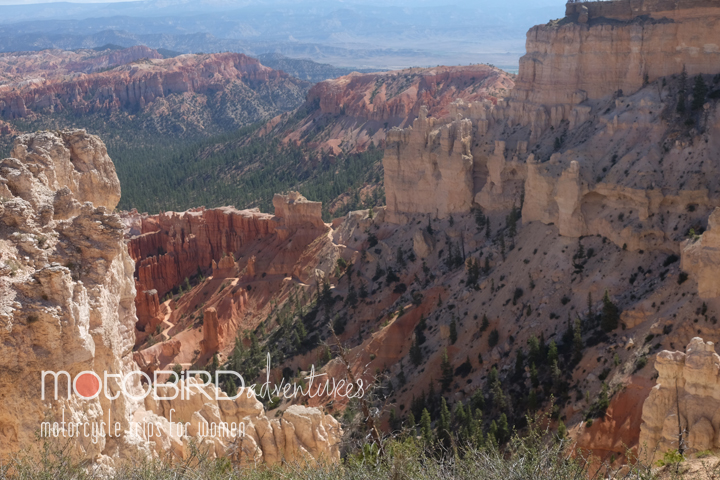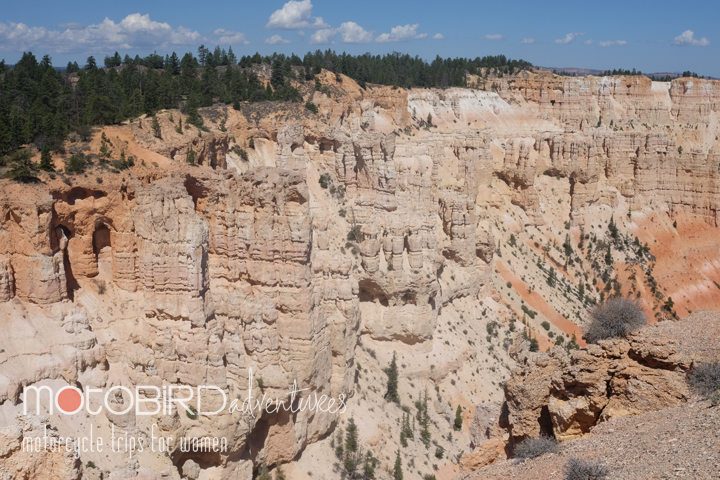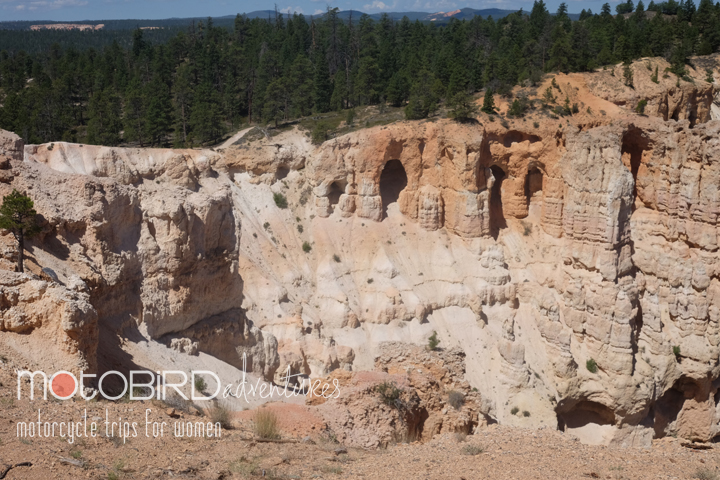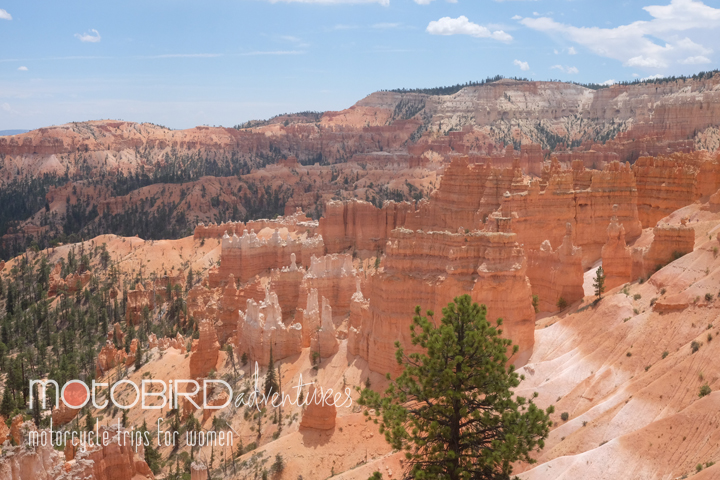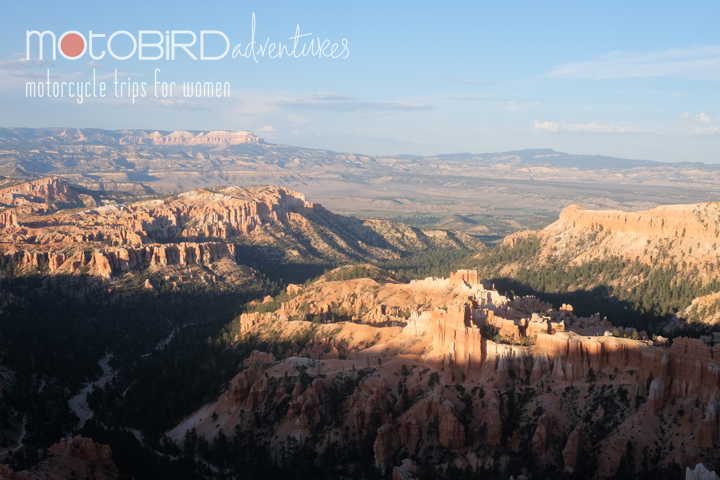 Day four | bryce canyon, ut to bluff, ut | 300+ miles
This was the day before I turned 30; I had a push-pop and doritos for dinner. This was a rough, but amazing day. I had an early start heading East on 12. The road passed through a few small towns and once in Boulder, UT I made a righthand turn onto Burr Trail. This 70 mile trail was used to bring cattle back and forth to market in the late 1800's. The first section that winds through the bottom of a canyon, shadowing you in the quite beauty of the high, red, rock walls, is paved. It isn't until you reach the hotter, more exposed Western boundary of Capitol Reef National Park that the pavement ends. At this point, the buttes, mesas and mountains in the distance are calling out, so after a photograph I continue. There is an incredible switch back that seemingly goes down a sheer rock face, reminding me of something out of Lord of the Rings. There is 800 feet in elevation change in just half a mile. Continuing on the mostly hard pack road, I was making great time... until I unexpectedly hit a section of deep sand and of course the bike decided to take a nap. With the handlebars below the tire and the bike pointed slightly downhill, I was having a very challenging time trying to right it. My feet would sink further away from me and into the sand any time I was able to lift the bike part way, not leaving me much to leverage maneuver. With no shade in sight and having only seen one other vehicle in the hour and a half I had been riding, I didn't have much hope of someone coming my way. After applying another layer of sunblock, I began unpacking the luggage and drinking alot of water to stay as hydrated in this brutal heat as possible. Very lucky for me, a couple eventually drove by and we used the monkey method to get the bike upright. The rest of the road was problem free and I made it to the ferry in Bullfrog with 5 minutes to spare- I hadn't even timed it! Yes I did say ferry and I was in the desert and I wasn't hallucinating like my Uncle thought. There is a ferry that takes you from Bullfrog, UT across Lake Powell to Halls Crossing, UT. This section was really beautiful, the rock formations surrounding the lake were otherworldly. At this point I was really hot, exhausted and hungry. I had some food at Halls Crossing Marina then headed back to the ferry dock to soak in the water. With all of my motorcycle gear on, sans boots & socks, I walked right down the ramp and cooled off in Lake Powell. Once back on the bike, it was much cooler riding down that long straight road through nothing. By the time I hit Moki Dugway, I was most certainly dry and hot again. These switchbacks are 3 miles long with 1,200 feet in elevation change and a view across the desert like nothing I've seen before. This time I did stop and take a few photographs, having missed that opportunity on the first set of switchbacks. For some reason, while every thing up to and after the switchbacks is paved, that 3 mile section is unpaved. I stayed pretty close to the wall, with the drop offs being quite terrifying. I knowingly rode past the turn off for Valley of the Gods so I could get something cold to drink in Mexican Hat, I had been fantasizing about a gatoraid for the better part of the afternoon. Once I thought I was hydrated, I headed back to Valley of the Gods, found a perfect spot to set up my tent and thought about the great views of stars I'd get that night and the incredible sunrise across all of the buttes I'd experience on my birthday morning. Then the afternoon storms came... my tent was bent sideways across my body, I was flat on my back, the heat radiating into me off of the ground below, in the tent watching through the small, flapping opening as lightning struck nearby and rain turned the hard earth into mud. I did my best to stay calm and kept it light, thinking about the likelihood of not actually making it to my birthday. Once the second storm passed, I packed everything back up, the wind still whipping around, and rode to Bluff, UT for a hotel. This is where I had the very adult dinner of a push-pop & doritos. When I got into the hotel room, I sat in the dark, cooling off for quite awhile before moving again.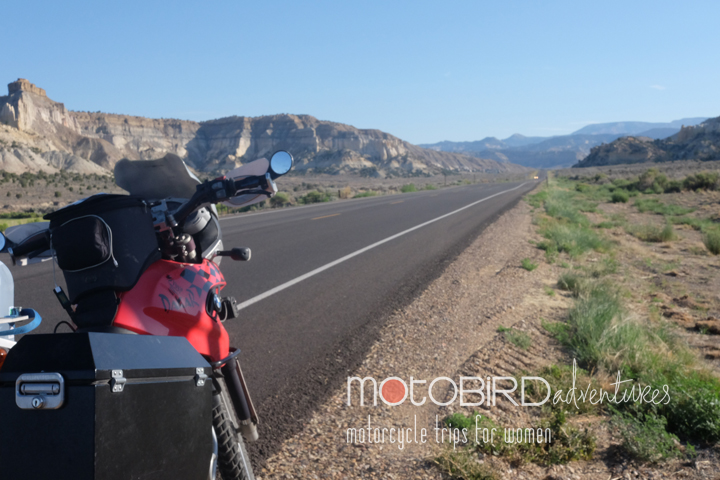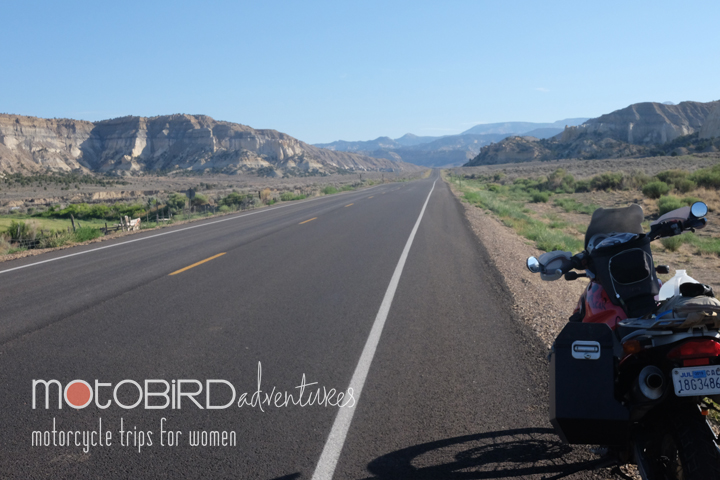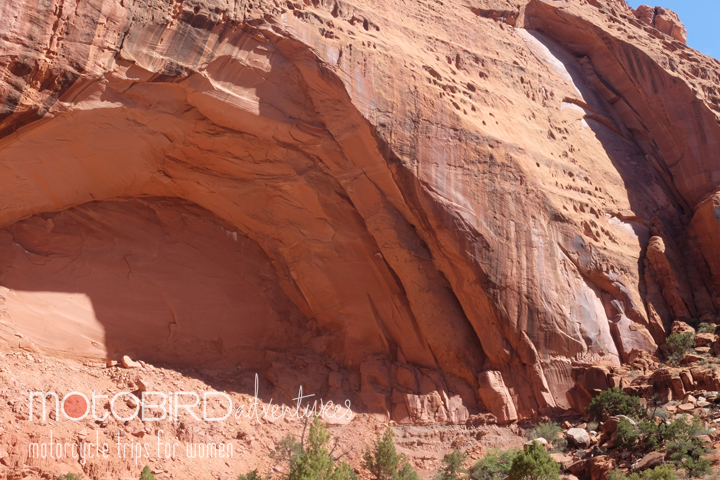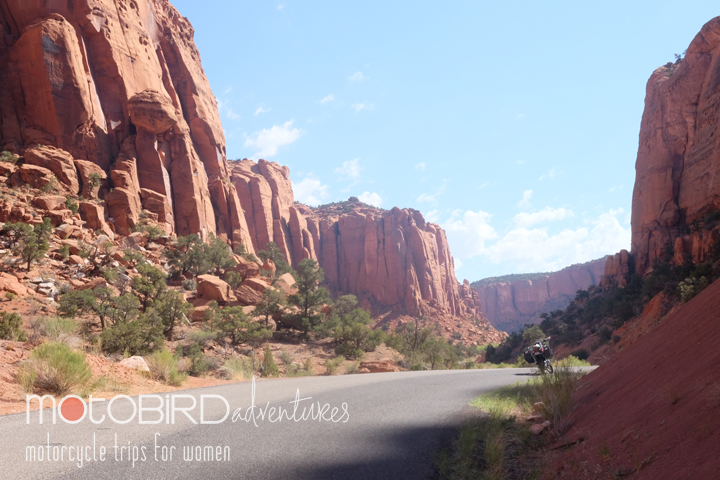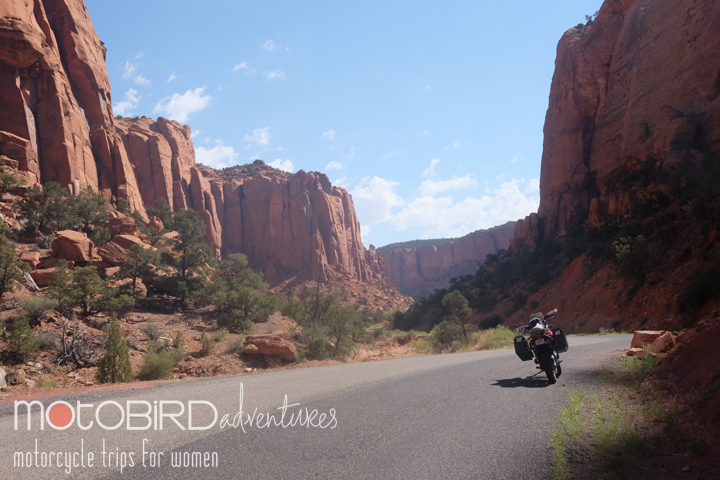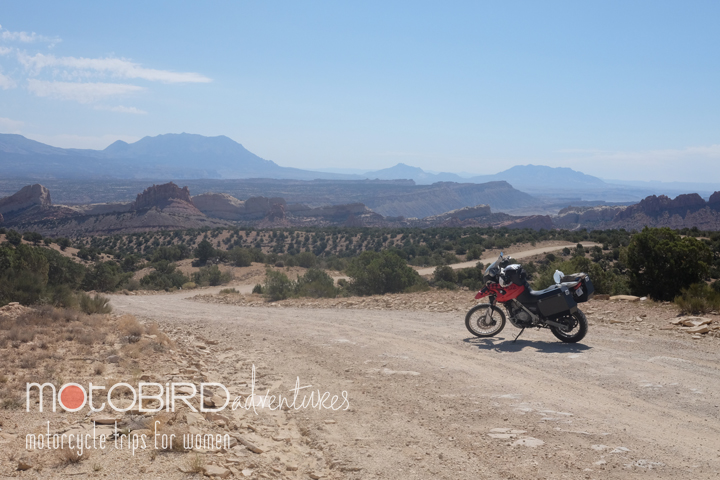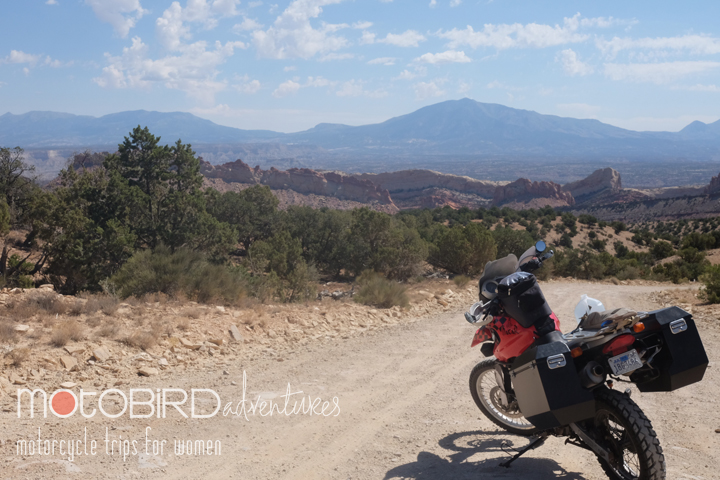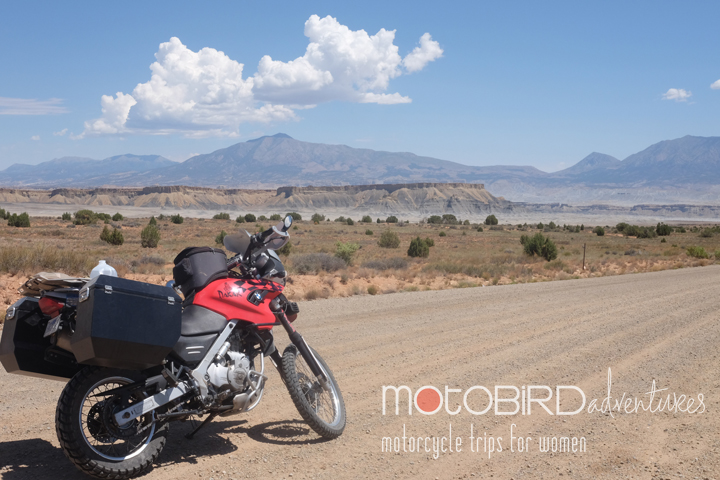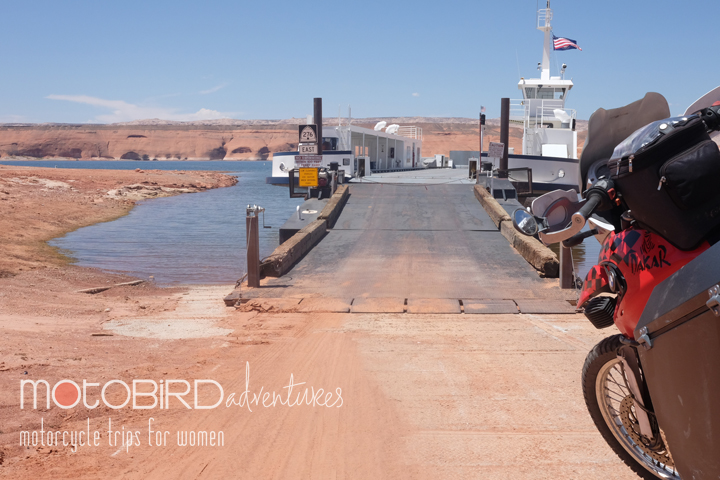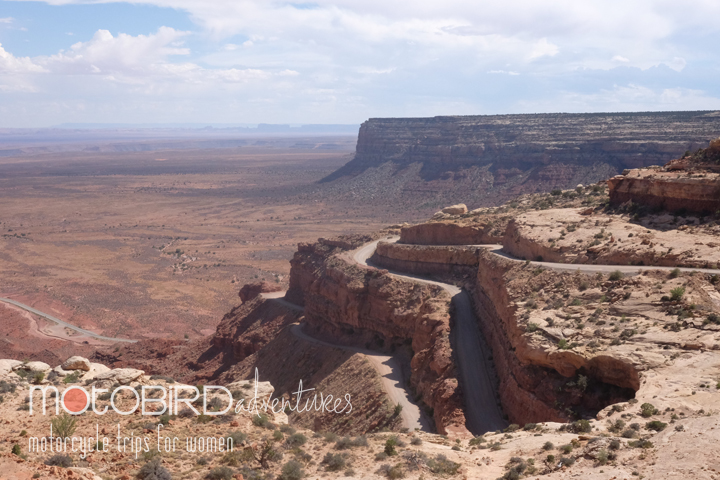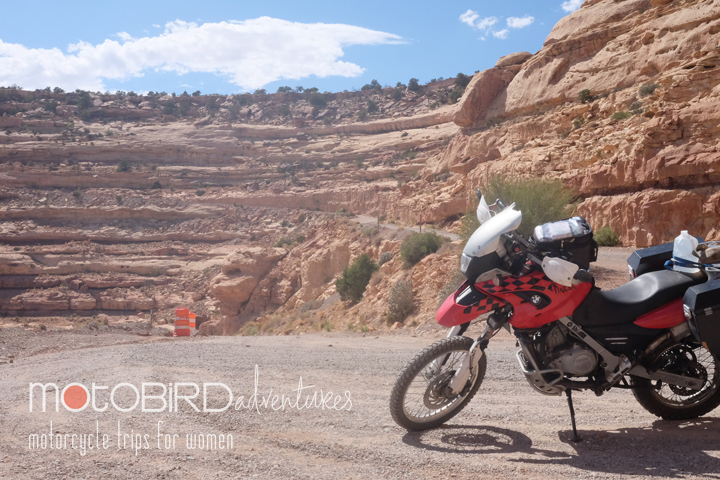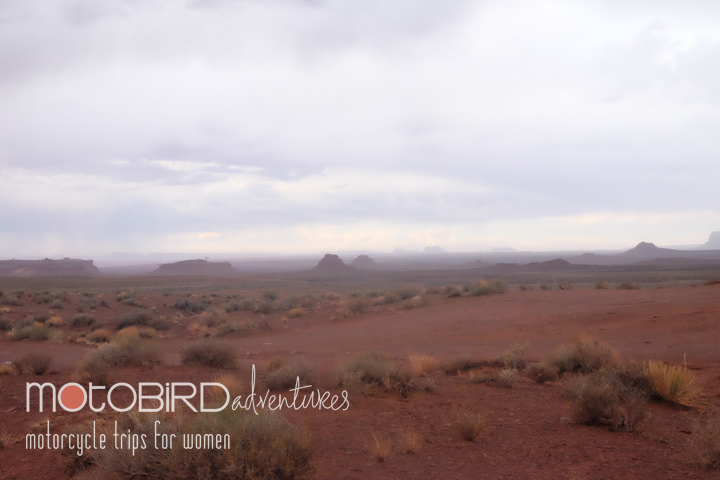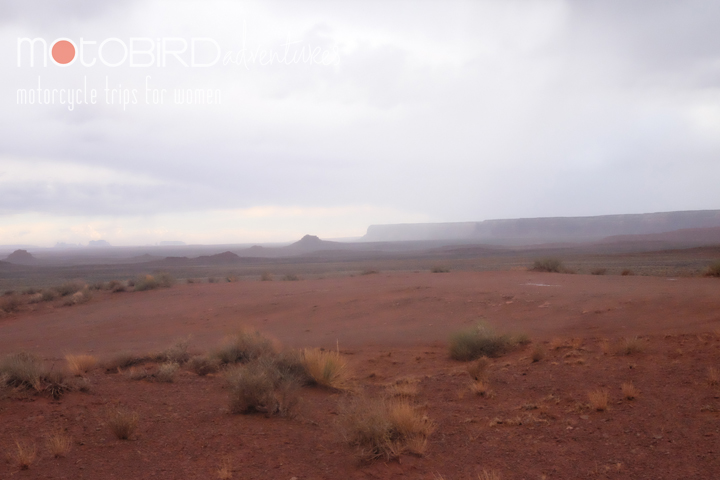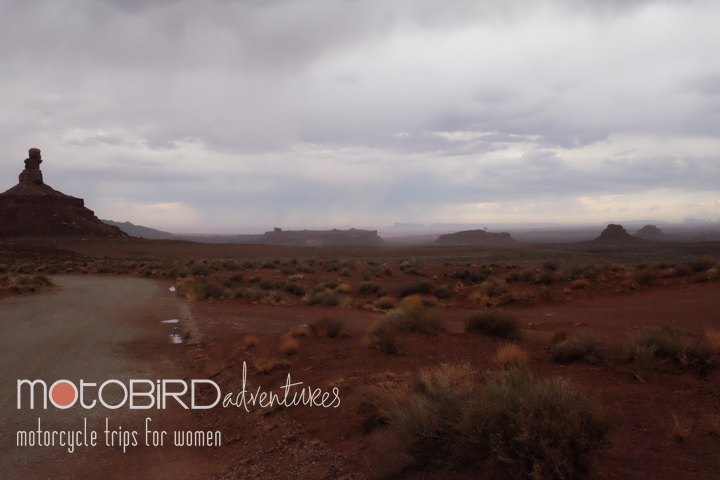 Day five | bluff, ut to Santa Fe, NM | 400+ miles
Since this was my birthday, I decided to take it easy and only ride 400 miles... surprisingly I imagined that it would be an easy day since it was less miles and stops than I had originally planned. Heading south into Arizona in the morning, I made my way through Apache reservation, over the Chuska mountains, winding my way up the mountain through the trees. I stopped for second breakfast in Farmington, NM, which was on a stretch of highway through the desert. The diner was full of americana knickknacks and a carpeted wall. The heat was getting to painful highs as I crawled through this more populated cluster of towns along 64. Turning off the highway I made my way towards Chaco Culture National Historical Park. The pavement ended shortly after the turn off, leaving me with an extreme washboard road to vibrate me and the bike to bits. Once I arrived to the National Park, I walked around the air conditioned visitor center to cool off and learn more about this incredible site. Thousands of people lived here as early as 850 AD. It was a central location for many different cultures, with artifacts found here from as far away as South America. Not much is known about these early cultures, but it is believed that this was a main trading center for many of the tribes throughout the Americas. Their buildings, which you can walk through, were covered with adobe, the stonework perfectly stacked and still standing created perfect right angles and then entire complex was aligned with North, South, East & West. Many of the windows aligning with the sun at different times of the year. An incredibly well thought out construction that more than puts our modern buildings to shame. Wood from mountains nearby (see over 50 miles away) were used as support beams for floors and roofs of these buildings. There isn't a clear reason as to why the sites were abandon. I wish I had spent a night here, but I had my eyes set on a nice hotel and dinner for my birthday, so after a short hike, I went back to my motorcycle ready to tackle the next bit of roadway. That washboard road backed out 2 of the 3 bolts holding on my left luggage rack, which left my fully packed pannier hanging off the side of my bike by one bolt. I was glad I caught this before heading back down the washboard road. With the help of 3 ratchet straps, the pannier was as secure as it could be, I hoped my best that nothing would break or fall off on the ride back. I figured there would be a hardware store on my ride to Santa Fe, but it was just alot of open land. I decided to just keep on and deal with it once I got to Santa Fe. I made it to town about an hour before sundown, found a great hotel that over booked, so they bumped me up to a king suite with an adobe fireplace. I walked around the plaza, unsure of what I wanted to eat to celebrate this new decade I'm embarking on. I settled on Mexican and rewarded myself with a delicious cocktail, but a much less delicious dinner.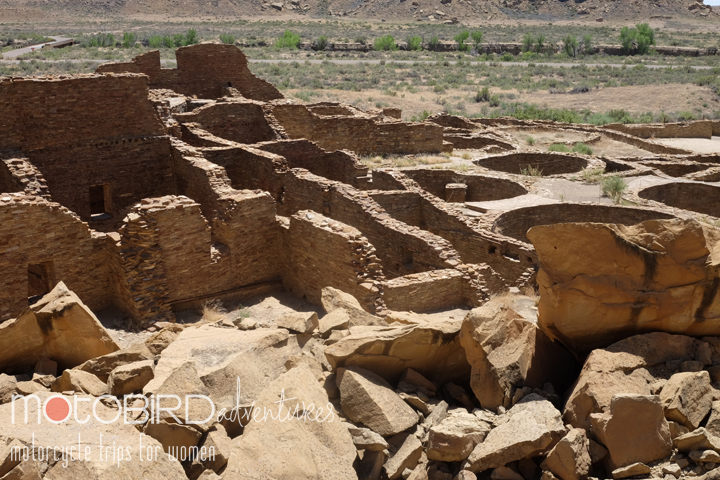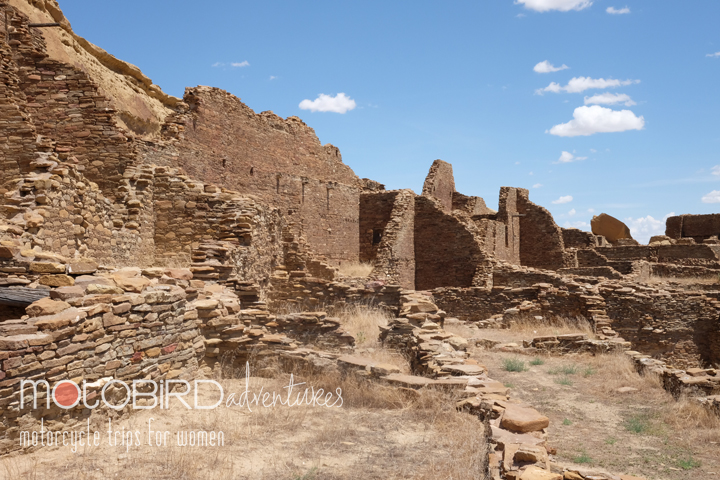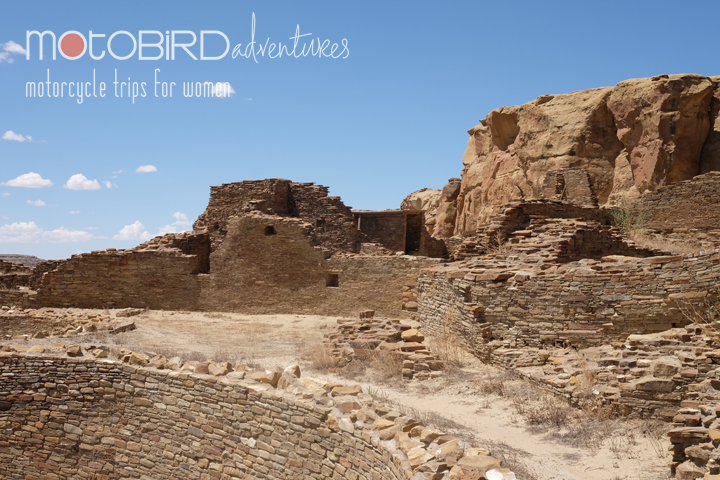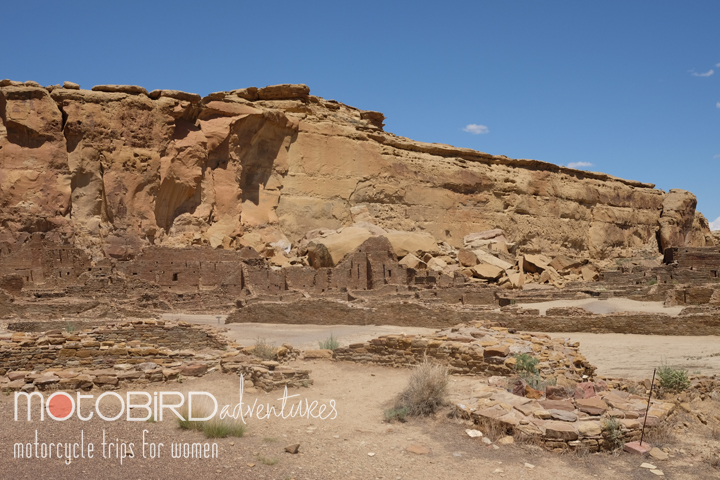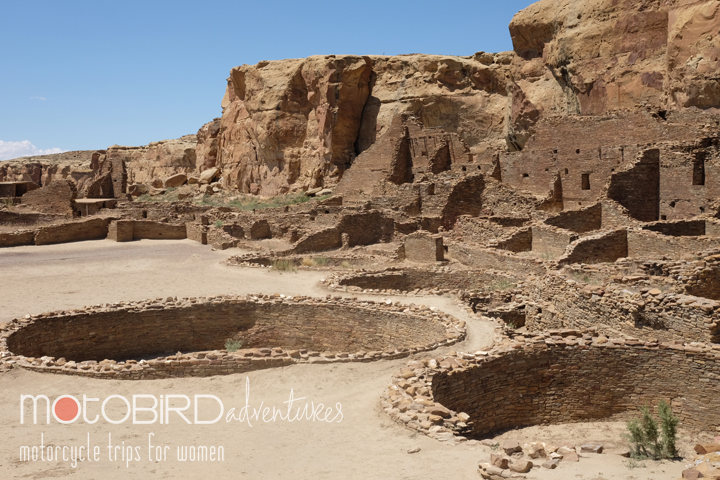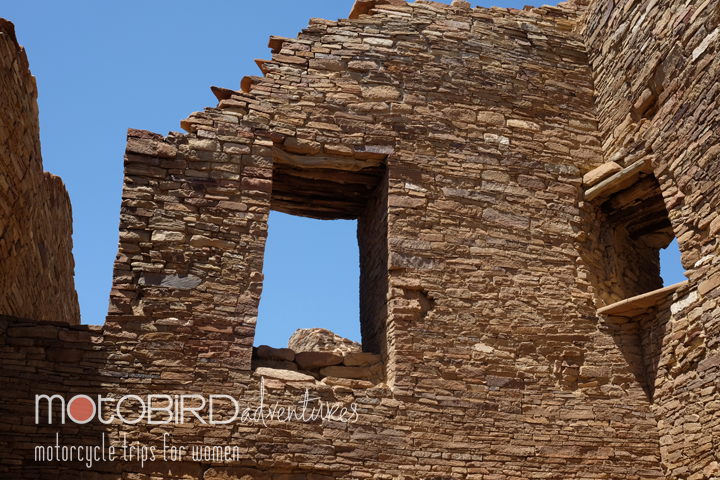 Day six | Santa Fe, NM to Heron Lake, NM | 200 miles
In the morning I was up and ready to get that luggage rack properly bolted on. I bought extra bolts this time and repaired the bike in the parking lot of an ace hardware. I had a nice breakfast at Cafe Pasqual's, walked around the square in Santa Fe, toyed with the idea of buying a nice piece of jewelry then got on the road heading towards Taos. It was a late start on the day and I really didn't want to go far. I was dragging my feet all day, so I stayed longer than my coffee lasted at the cafe just outside of the square in Taos, just people watching. I finally mustered some energy to head back out on the road, crossing over the Rio Grande Gorge Bridge on my way west. I got rained on while riding through the Carson National Forest, which only made me want to pull over sooner. Luckily I didn't have much further to go to Heron Lake State Park.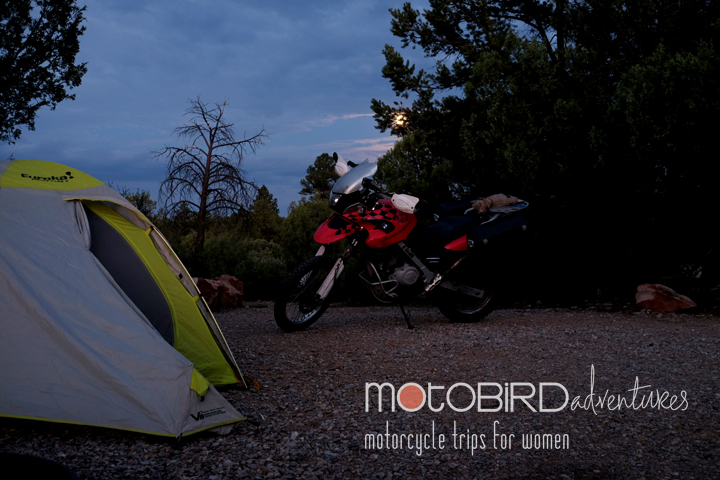 Day Seven | Heron Lake, NM to Canyon de Chelly, Az | 300+ miles
The morning was very cold, making my way back across a different section of 64, towards Canyon de Chelly. I arrived at the North rim by 1ish and saw Mummy Cave first. It was incredible seeing the buildings built into the canyon walls and knowing that this canyon has been occupied by people for over 5,000 years, the longest anyone has lived anywhere, uninterrupted, in the Colorado Plateau. I was getting exhausted from the heat and doing these short hikes in my motorcycle gear, so I b-lined to the visitor center to figure out where I'd be camping for the night. I set up camp in the very empty campsite at the beginning of the road to the South rim, in a grove of trees. I just sat for awhile, since the heat was wiping out the little energy I had left. After a little snack it was time to tackle the other side of Canyon de Chelly. I rode towards the furthest outlook, but pulled over sooner as my way was blocked by rain and more lighting. Having swapped over to hiking boots and with space in my luggage now to store my gear when I pulled over, I took on the short 2 mile hike down 600 feet to White House ruins. The hike down wasn't so bad and the reward was great, although having come from Chaco, I was disappointed I wasn't able to get closer to the ruins. I sat trying to contemplate what life was like and the impressive building styles achieved so long ago, but of course was distracted by my heat and hunger. This site also had a Kiva, a circular room, just like Chaco. I fell asleep before sundown and was disappointed when I found out the next day that not only was it a full moon, but there was also an eclipse, which would have been beautiful to see from the canyon rim. On the bright side, I got alot of much needed sleep.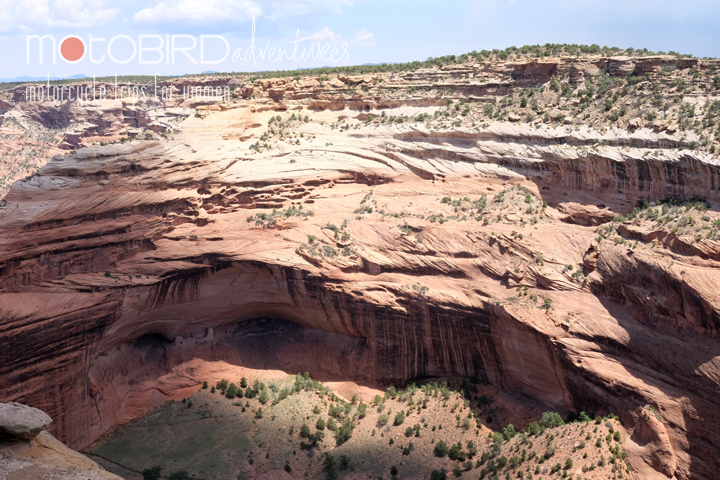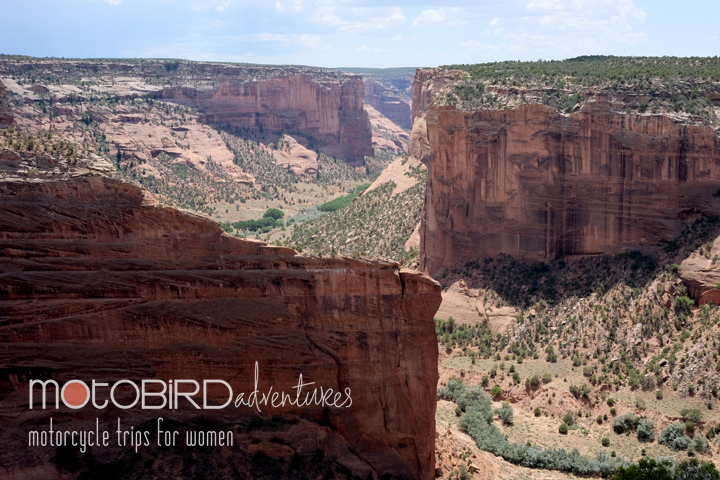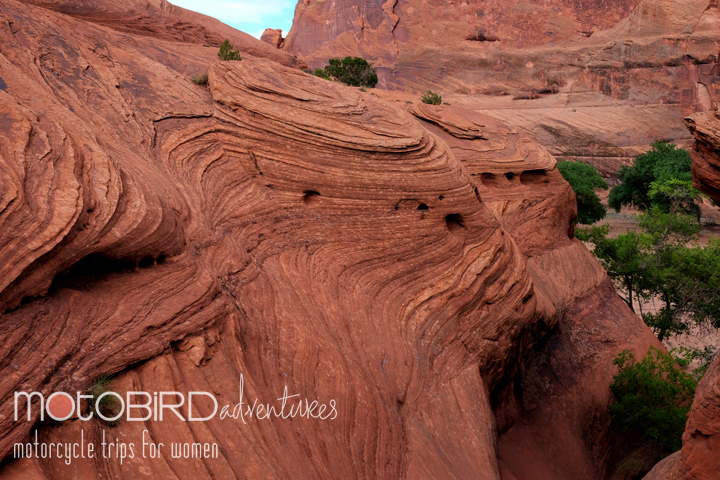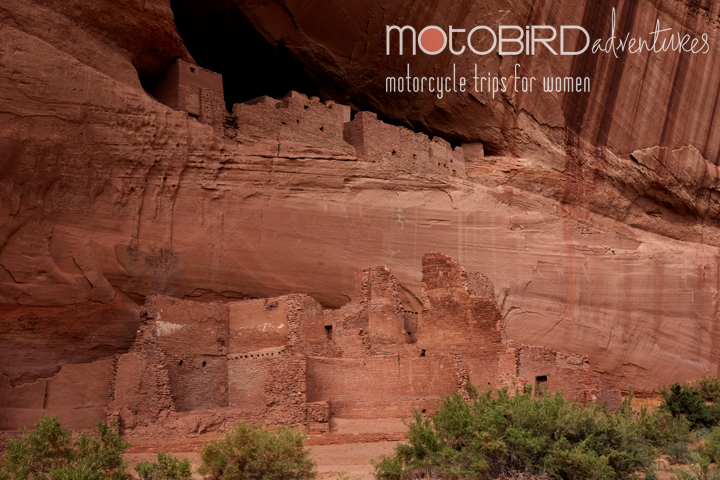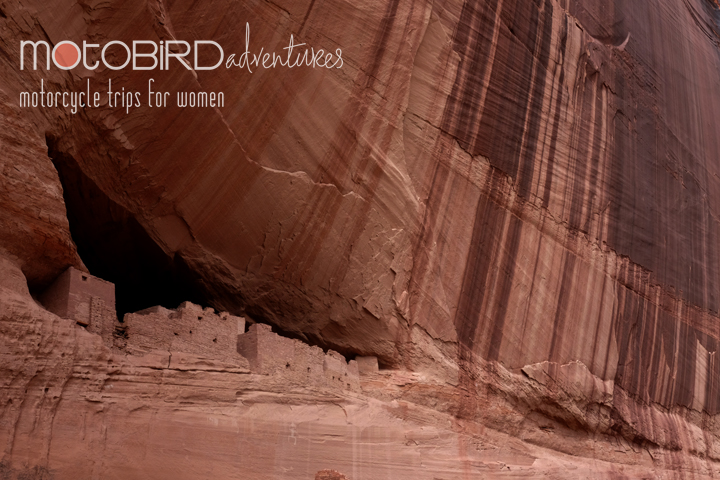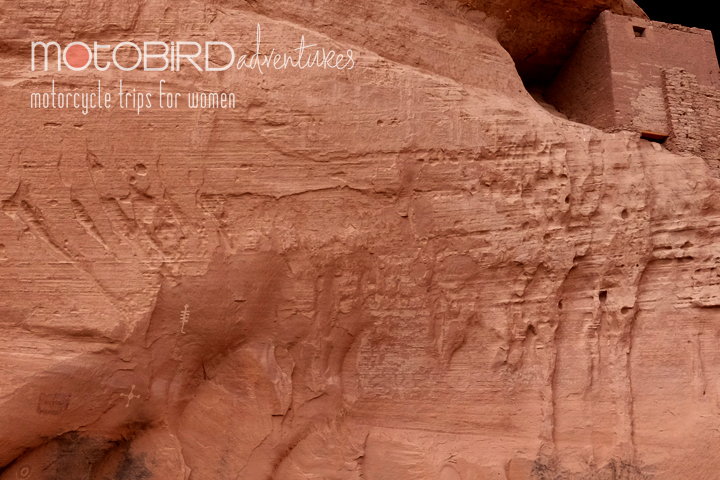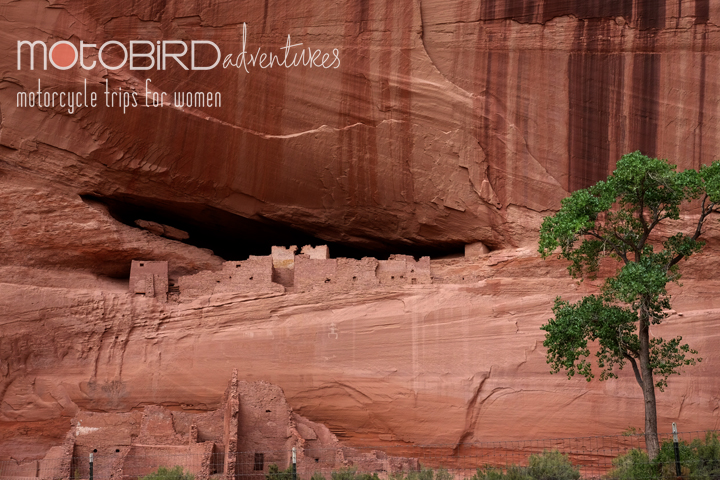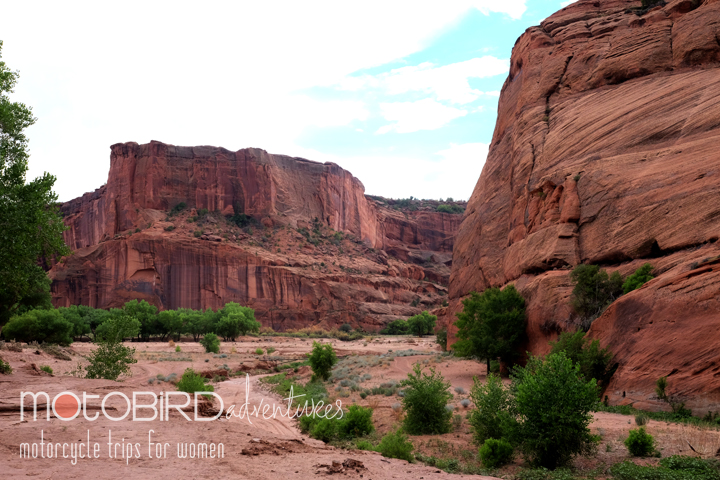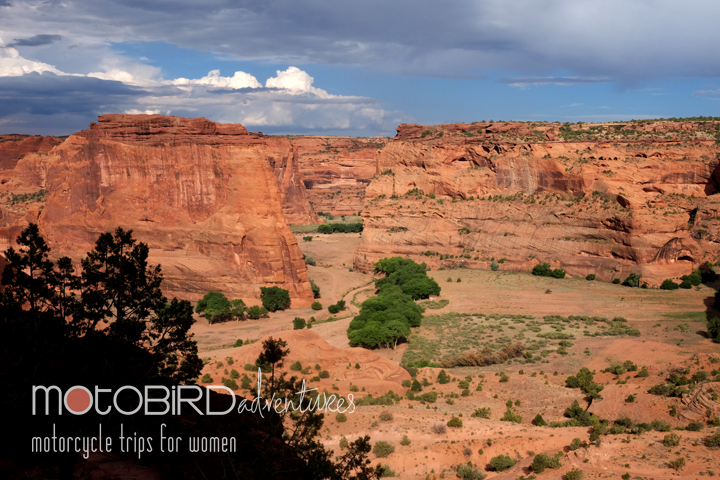 Day Eight | Canyon de Chelly, AZ to Kingman, AZ | 400 miles
I spent the morning riding through the Hopi Reservation and making my way towards Sunset Crater National Park. The heat was incredible by the time I made it there. I checked out the visitor center and on my way back to the motorcycle, the sky opened up, hail, lighting and a total downpour had me pinned at the visitor center for 2 hours, waiting for an opening to escape to Flagstaff. I found my window of opportunity, but even then it felt like I was dancing around lighting and testing my luck. I passed some more time at a cafe in town, hoping the storms would pass. They had started much earlier in the day than they had been, which caught me off guard. Since I had to make it back to the Bay in a couple of days, I started my "bomb back to the Bay" and took 40 west. Then the whiteout came, the rain was slowly starting to build up, becoming more and more intense. The hail started pelting me and there was, of course, more lighting all around. The semi in front of me provided comfort, having slowed down and turned on their hazards, I used them as a buffer and a measure of how bad the roads were. Once the semi decided to pull over, I didn't even hesitate in my decision to follow. Unfortunately that was the exact moment there was a total white out, I could not see anything in front of me, no lights, no road, just white. Thankfully this didn't last long and I was able to make it to the side of the road to wait for the worst of it to pass. It was at this cold point that I decided I'd stay at a hotel that night. At the next gas station I booked a hotel in Kingman, AZ, only 70 miles further west. I thought another storm would be in the path, so it took a while before I was ready to get back on the bike for those last miles. Another bit of luck found the other storms had already passed, so my ride to Kingman was only fraught with extreme heat, and that dried out all of my wet gear.
Day nine | kingman, AZ to Los Angeles, CA | 300+ miles
The night before, I was deciding between spending my last night camping in Kings Canyon or seeing friends in Los Angeles. Luckily I was able to get ahold of my friends and they made the decision very easy. I wanted an early start because the majority of the 300 miles to LA would be through the desert and this heat was sapping me dry. I made it to Cris in Silver Lake by early afternoon, parked the bike, wash off the desert sweat and climbed in his air conditioned car, headed towards Kay in Santa Monica. Kay lives in a killer apartment complex that encloses a courtyard with a pool. We spent the afternoon eating, drinking rose and swimming in the pool. Having spent the past 9 days alone in my helmet and reading in the evenings, everyone kindly let me talk them to death. After everyone, Cris, Kay & I headed to the ocean just around the golden hour. My last sunset and I was able to get into the warm, renewing ocean. It was the perfect end to the adventure.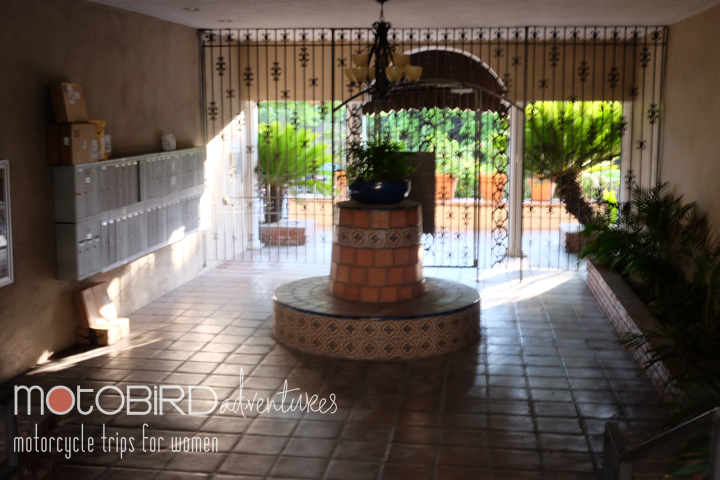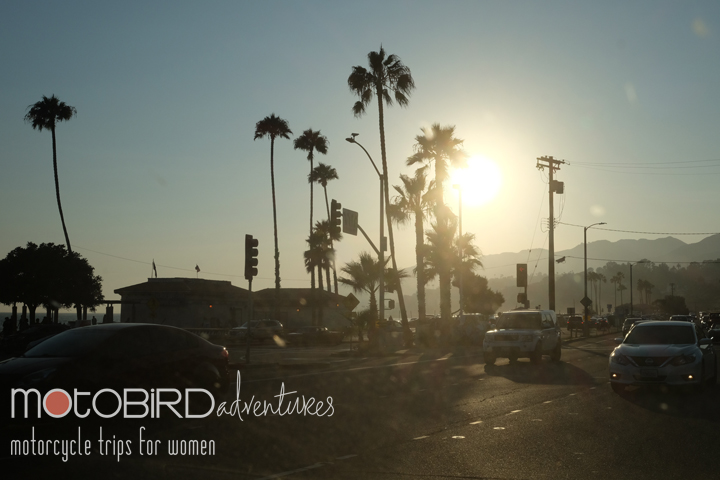 Day ten | LA to the Bay | 300+ miles
The last day was uneventful, just heading up the 5 as fast as I could. Getting home midafternoon and falling asleep on the couch upon arrival.